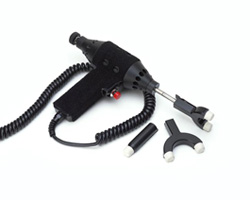 We have incorporated the use of some of the latest, and I feel the best of new technology, into our practice. The Erchonia Adjustor is a tool that adjusts in a very gentle way by pulsing at up to 12 cycles per second. It has been shown that the nerves to muscles, ligaments and tendons are extremely responsive to this frequency. This helps to restore normal function and movement, when there has been an injury or chronic motion problem.
Utilizing Koren Specific Technique (KST) to identify what needs to be adjusted, in what order and in the most favorable position, we have seen incredible results. KST is a method of analysis to determine in what way the body is imbalanced, where and how to adjust it to create the change it needs to restore motion and function. Read more about KST and its developer at www.teddkorenseminars.com

We utilize the Insight Millenium surface EMG and thermography as part of our evaluation of the spine and nerve function of the body. This information, along with a thorough examination and health history, help us determine how to best serve you.
For more information related to Chiropractic and your health visit the Canadian Chiropractic Association at www.chiropracticcanada.ca
For information on Fit in 15
Chiropractors' Association of Saskatchewan at www.saskchiropractic.ca